Better Reviews For Your Business,
On Autopilot
Never Worry About Getting Reviews Ever Again.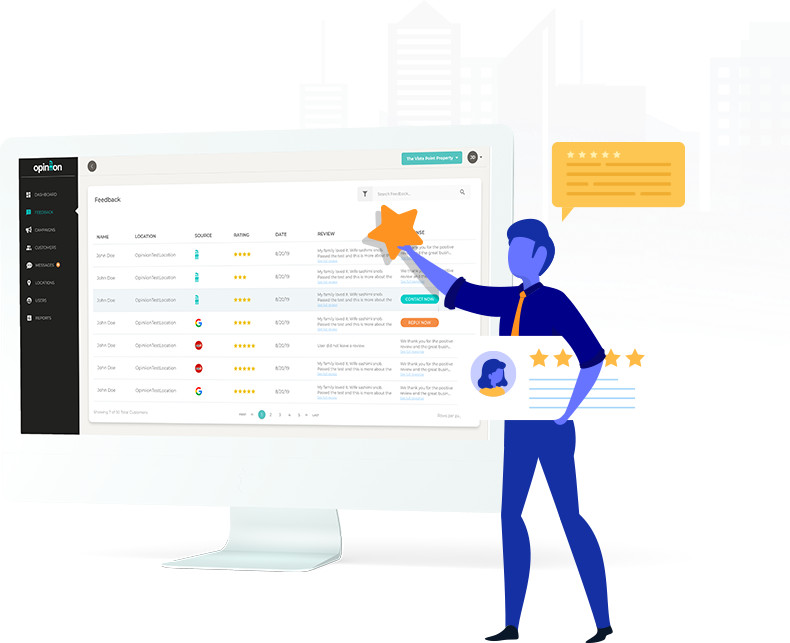 Over 10,000,000 Review Requests Sent for These Awesome Brands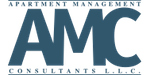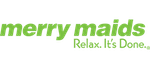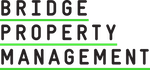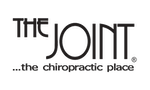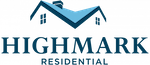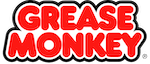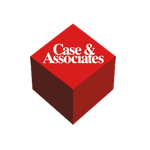 Opiniion helps businesses generate a continuous supply of reviews with our automated system.
Just set it up and watch the reviews come in.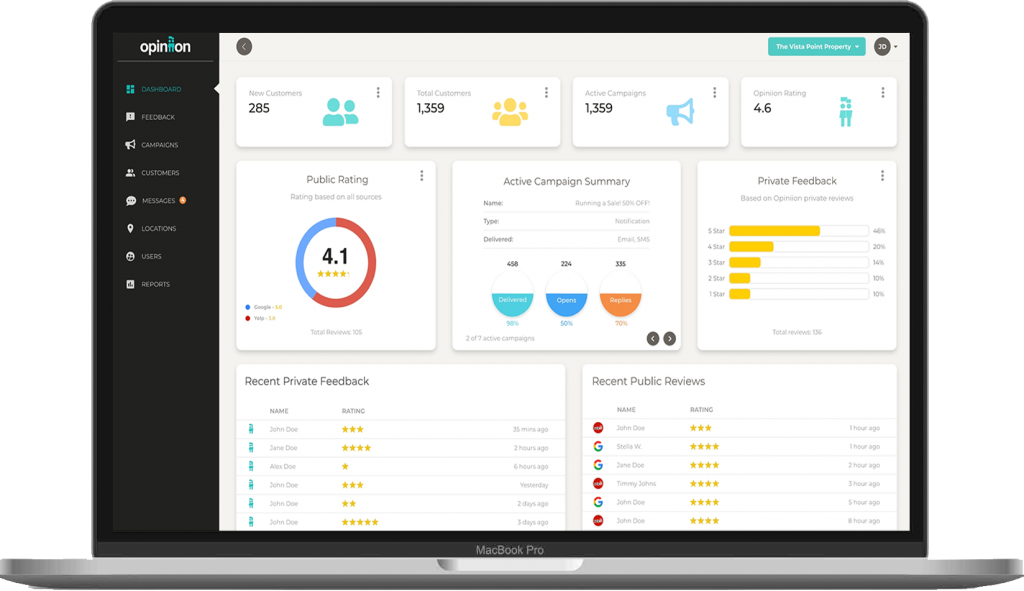 One Less Thing


On Your To-Do List
At Opiniion, we've optimized the review collection process to make you more visible to your ideal customers.
Set up your account and forget about it…
and new reviews will keep pouring in.
Opiniion helps you take control of your online reputation
Opiniion provides you with the tools, services, and support you need to take a proactive approach towards managing your online reputation and increasing your digital curb appeal.

Opiniion is for businesses who struggle to regularly generate positive online reviews. 
We're passionate about optimizing the review generation process for you. No complicated funnels. No 5-step headaches.
Once you sign up for Opiniion, you're just a 2-click process away from 5-star reviews.
On average, our users get a 56% engagement rate from their customers. That's 56 out of every 100 customers leaving positive reviews.
We make this happen for our users because, unlike other review generation services, we use a proactive approach through text message and email (and we're fully HIPAA compliant with it).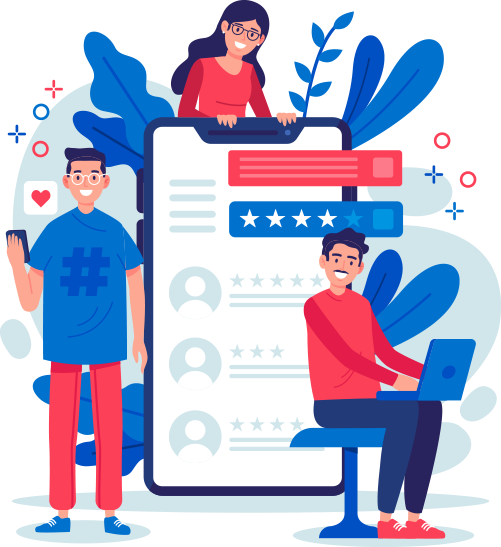 Here's how you get more reviews: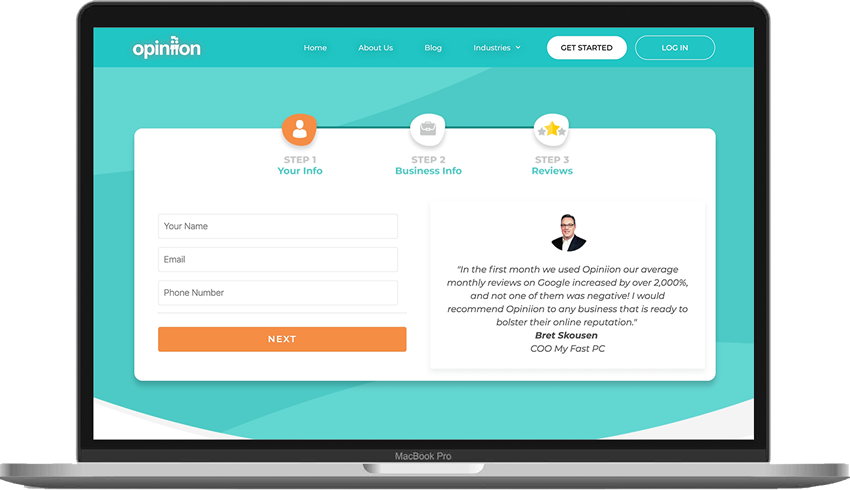 Step 2
Create your Opiniion account
Fill out the simple form that appears.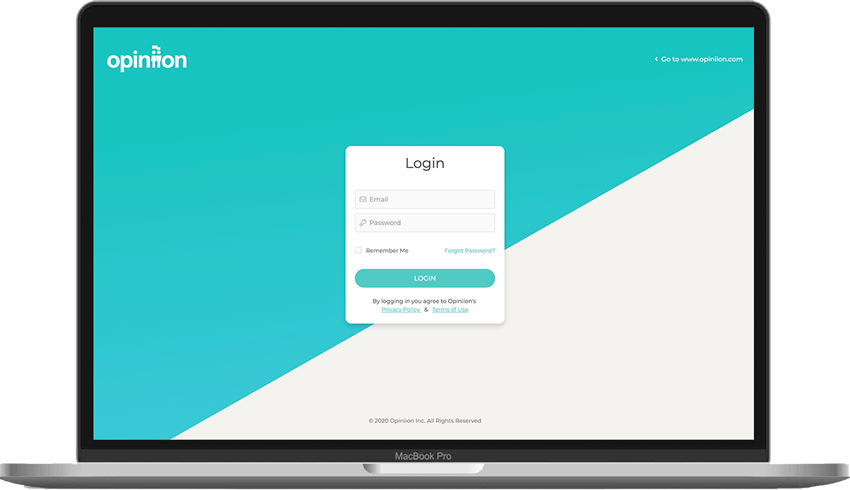 Opiniion integrates with all major CRMs. We will fully set you up in our system.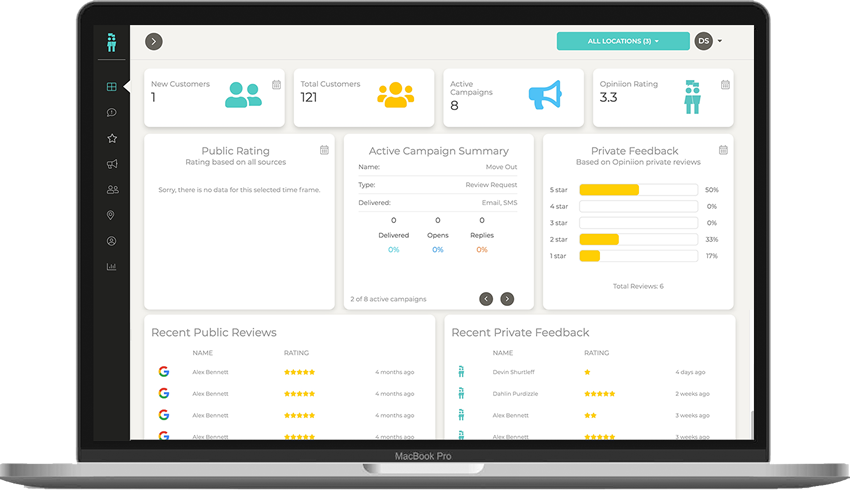 Step 4
Watch the reviews come in
Opiniion is as hands off or as hands on as you want it to be. Sign in to see your new reviews.  



Review Generation

doesn't need to be YOUR never ending task
It's no longer enough to get a handful of 5-star reviews. If you aren't constantly generating fresh new reviews, your competition will be and your potential customers will be buying from them.
Opiniion takes that hassle off your long to-do list, working 24/7 to automatically bring you an endless stream of new reviews and keep you ahead of your competitors.
Don't take our word for it.
Here's What Our Customers Have To Say
Josh C, ZRS Management
"Opiniion has become an extremely important partner for us… In the multifamily industry things move fast, with results and positive performance needed in real time and Opiniion is able to deliver on both those needs… We saw an increase in our online reputation and star rating almost instantly… We could not be more happy with the relationship we have created and the results we've seen so far."
Ann B, MEB Management
"Opiniion is one of the best management tools we've been introduced to in years… We have tried many ways to improve our star ratings with Yelp, Google and Apartment Ratings to bury negative reviews that many times aren't warranted… Once we signed up for Opiniion that changed almost immediately."
Jennie, AMC
"Opiniion has been a big benefit to our multifamily assets. The solicited reviews have not only helped boost our online reputation, but it has also helped us to get true feedback from current and former residents to see where our teams are succeeding and where we need to place more focus. I would definitely recommend Opiniion to anyone looking to boost their online review ratings."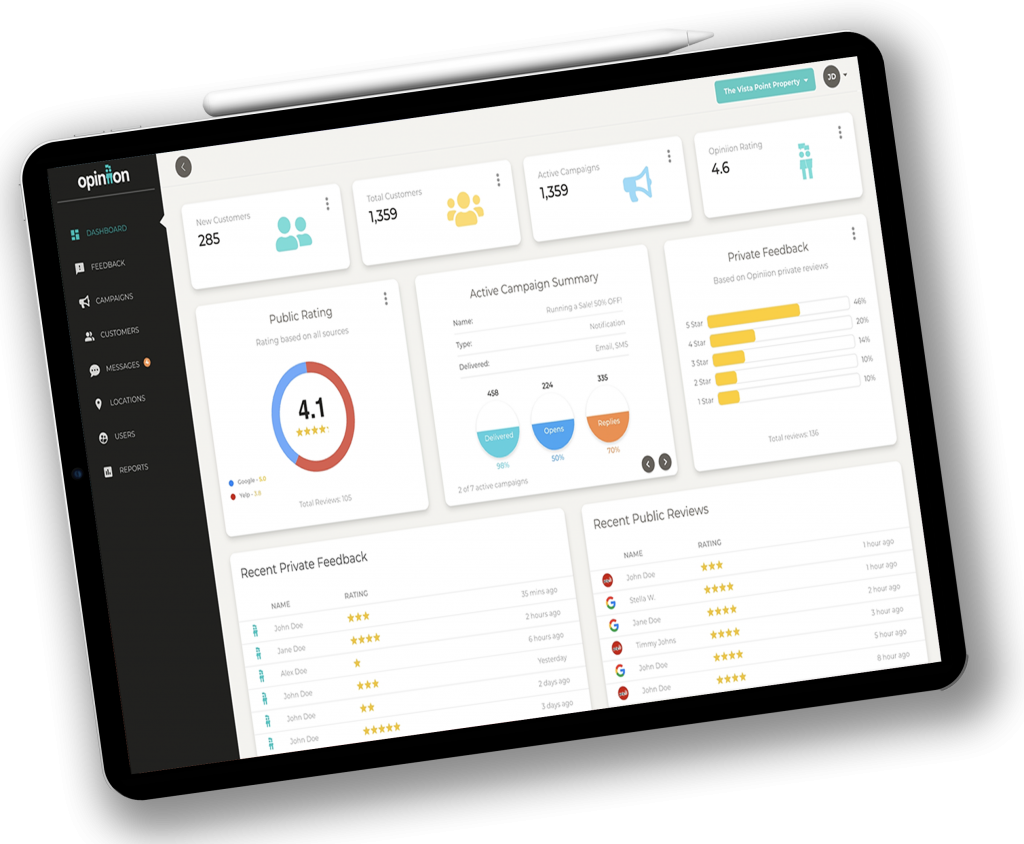 Reviews get more eyeballs on your business.
The more eyeballs, the more money you make.
Instead of paying an employee thousands of dollars a month to chase reviews for you, let Opiniion automate the process.