#1 Resident Satisfaction Software
Measure and Manage Your Resident Experience Every Step of the Way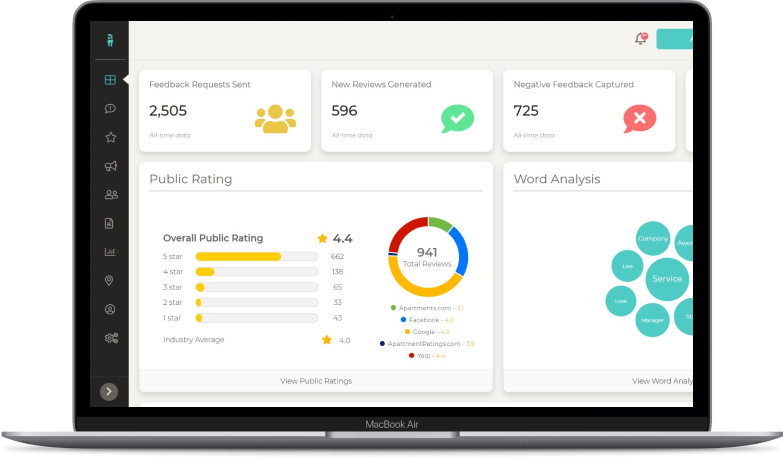 Trusted by the Nation's Top Property Management Companies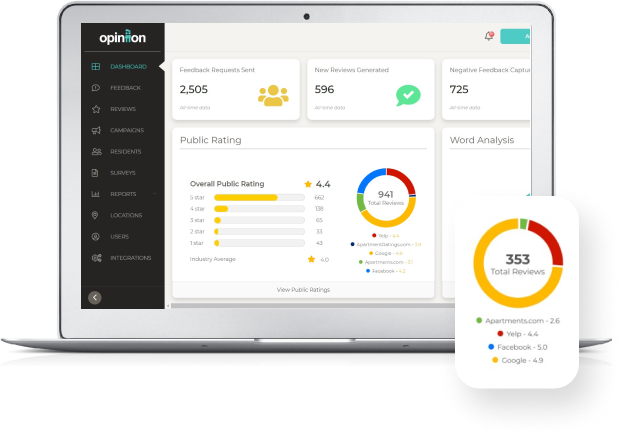 ACTIONABLE DIRECTION, NOT JUST INFORMATION
We give property management companies the software solutions they need to better understand their resident satisfaction, every step of the way. By streamlining the process in which property managers collect, analyze, publicize, and act on resident feedback, we make life easy and provide powerful direction to help create a better resident experience.
Frequent Resident Feedback, Automated
Understand your resident's true experience and how well you're doing through various interactions and touch points, i.e. tour, move-in, work order, renewal, move-out.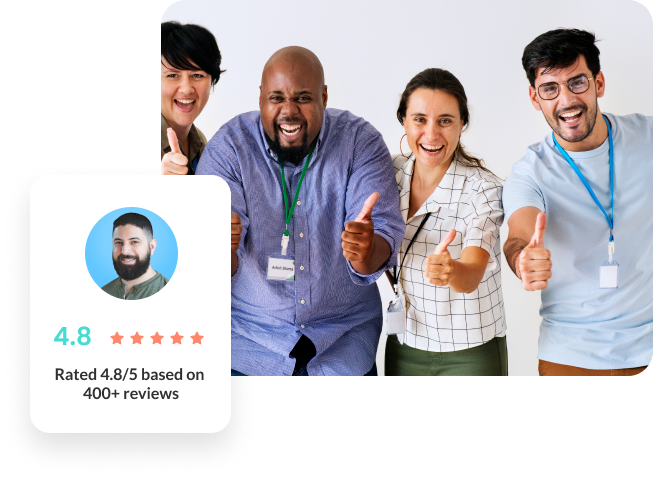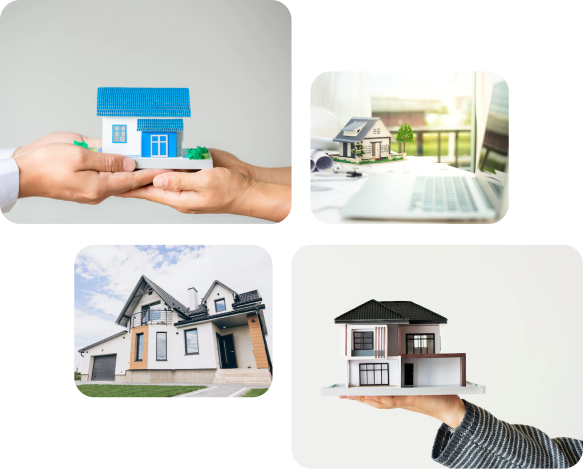 Authentic Review Generation
Promote the good and learn from the bad, optimizing your resident experience based on real residents at your community.
MEANINGFUL DATA WITH SENTIMENT
Obtaining A Property Pulse To Understand Issues & Increase NOI
Better than a one-time secret shop, learn from the very residents who live the experience you provide every single day. Learn not only when there is a problem, but the cause; and what improvements can be made to improve the resident experience.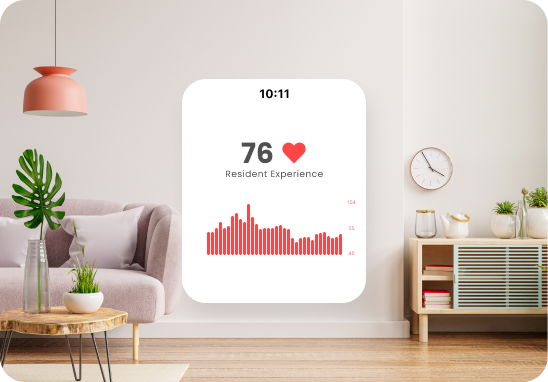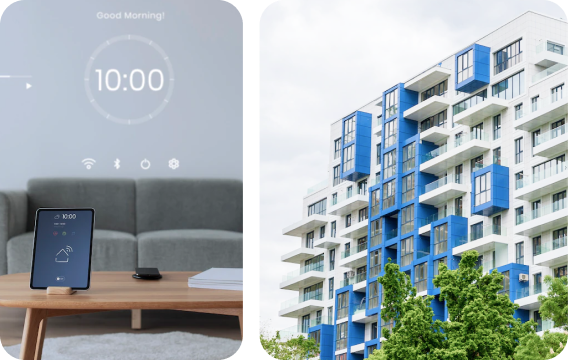 Whether it's generating reviews, responding to resident feedback, pouring through the data of various touch points, or reports right in your inbox – Opiniion runs autonomously, with as much or as little hands on as you want. Still giving you the best results.
What Industry Leaders Think
"Opiniion has become an extremely important partner for us… In the multifamily industry things move fast, with results and positive performance needed in real time and Opiniion is able to deliver on both those needs… We saw an increase in our online reputation and star rating almost instantly… We could not be more happy with the relationship we have created and the results we've seen so far."
"Opiniion has been a big benefit to our multifamily assets. The solicited reviews have not only helped boost our online appearance, but it has also helped us to get true feedback from current and former residents to see where our teams are succeeding, and where we need to place more focus. I would definitely recommend Opiniion to anyone looking to improve their resident experience or boost reviews."
"Opiniion is one of the best management tools we've been introduced to in years. We have tried many ways to improve our star ratings with Yelp, Google and Apartment Ratings to bury negative reviews that many times aren't warranted. Once we signed up for Opiniion that changed almost immediately and the results we've obtained have been phenomenal."
Not a Property Management Company?
That's okay! We're bilingual and speak your language too. See how Opiniion can help drive customer feedback, boost online reviews, and provide a better customer experience for your business.
Connect with a Real Person